Grade A Plus
These balls are in mint condition, are shiny, and look brand new. No scuffs or marks, cuts or scratches. Some re-cycled balls may have a company logo or course logo, but no "X-outs", "Practice" balls, blemishes or balls with excessive graffiti (pen markings). A few re-cycled balls may have small player's marks such as faint dots or a line, or be slightly yellowed or discoloured, but nothing that will affect the performance of the ball.
Re-Finished
This is the term used to describe good quality balls that were slightly off-color or had a few ink marks before they are made to look good again. A simple process which mimics the new ball manufacturer's process is used , and using a former new ball manufacturing plant using the same equipment! How do refinished balls compare with new ones for performance? The balls in all the various grades tested against new golf balls right out the package show only a very minimal loss, in fact a statistically insignificant loss of carry distance.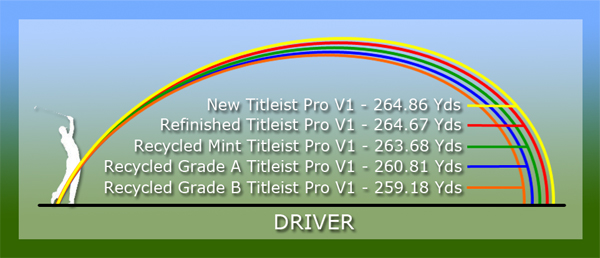 With a driver the maximum loss of carry over a drive of about 260 yards with the mint recycled and mint refinished balls show only a loss of 1 yard or less. Similar proportional results with both a wedge and 6 iron as indicated in the test graphs here.
Grade A
Excellent quality balls. Ideal for all types of play, tournament, matchplay, and recreational. These golf balls all have some minor imperfection that keeps them from being Mint or A+. There will be small player marks, minor scuffs, or slight blemishes. Most people would consider these balls Mint, or A+ but we are just too picky. These balls are similar to a new ball after being played for 3-4 holes. The shine and colour of the balls may slightly vary, but the integrity of the flight characteristic is not compromised at all. They may contain corporate or team logos.
Grade B
These balls are of a very good standard in most cases. They do show signs of play and have some discolouration and/or scuffs and marks, but no cuts. These balls are ideal for recreational or practice play. Good quality balls at low cost. Sold in bulk lots of 50 or 100.